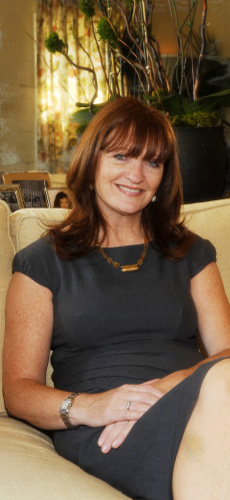 Jennifer Hall is a professional Interior Designer in Los Angeles California.
Jennifer Hall, originally from Dublin, Ireland, spent time in London and brought her sense of style and ambition to Los Angeles over 25 years ago. Always interested in design, architecture, arts and antiques, she attended the UCLA Interior Design Program while working with a well-known interior designer in Brentwood, CA over twelve years ago. As her passion grew, so did her vision for Lyons Hall Interiors. Determined to work for the best and gain the most from her design experience, Jennifer continued with a highly respected design firm in Los Angeles as Lyons Hall Interiors began to take shape. All the while building her experience and defining her trademark style. That style has led to creative engagements with celebrity clients ranging from classic, clean rooms and mixing unique antique pieces with contemporary lines for timeless and tasteful livable spaces. In addition to well-known clients, she has also worked on many residential projects from traditional to beach homes and high rise apartments, including commercial offices. Jennifer's philosophy is to keep it simple and always be aware of proportion. Lyons Hall Interiors represents the passion of Jennifer's vision and her enthusiasm is contagious. Her eye for symmetry and detail shows in the way she designs. The end result, fabulous. Jennifer offers a wide range of services from start to finish fulfilling any interior design needs to include:
• Private Consultation on Premise • Space Measurement (if blueprints are not available) • Choosing Paint Color • Selecting Window Treatments • Preparing Space Plans • Evaluating Existing Pieces in Client Collection for Use • Selecting Furniture, Fabrics, Carpets, Rugs and Accessories
Designed with your taste in mind, Lyons Hall Interiors, LLC offers a collaborative approach and is always completed in a timely manner and always to your personal satisfaction. 
Save
Save
Save
Save
Save
Save
Save
Save